Barbara Comeagain
Barbara Comeagain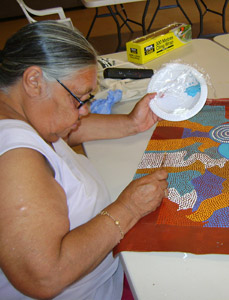 BORN: Western Australia
LANGUAGE GROUP: Derby area WA
REGION: Lives in Yamaji Region
Barbara is a senior woman of the Mullewa community and is a new, self-taught artist.
Barbara is a grandmother who enjoys painting at Barndi Nyarlu Arts in Mullewa.
Barbara paints mainly about her family and historical issues connected to her family such as the Stolen Generation.
Barbara lives in Mullewa Western Australia.
---
Artworks
---
Exhibitions
2013 GoodHeart, QV1, Perth, WA
2013 Revealed, Central TAFE, Perth, WA
2012 Open Studio, ACDC, Geraldton, WA
2012 Morawa Art Awards, City Hall, Morowa, WA
2012 Gifted, ACDC, Exhibition, QV1, Perth, WA
2012 Port Hedland Art Awards, Courthouse Gallery, Port Hedland, WA
2012 GoodHeart Exhibition, QV1, Perth WA
2012 NAIDOC MArketplace ACDC, Geraltdton, WA
2012 Mid West Art Prize, GRAG, GERALDTON, WA
2012 Illgarijiri, European Union, Brussels, Belgium
2012 Illgarijiri, The Hague, Den Haag, The Netherlands
2012 Illgarijiri, Australian Embassy, Berlin, Germany
2012 QPT, City of Greater Geraldton, Geraldton, WA
2011 Connection 2 Place Exhibit, GRAG, Geraldton, WA
2011 Port Hedland Art Awards, Port Hedland, Courthouse Gallery
2011 Mid West Art Awards, GRAG, Geraldton, WA
2011 Illgarijiri, Australian Embassy, Washington, DC, USA
2011 NAIDOC, ACDC Gallery, Geraldton, WA
2011 Gifted, ACDC Gallery, Geraldton, WA
2011 Good Heart Exhibition, QVI, Perth
2010 Mullewa Centre Exhibition, Mullewa WA
2010 Track.Trail Exhibition, GRAG, Geraldton
2010 NAIDOC, ACDC Geraldton
2010 OPR Good Heart, QVI Perth WA
2010 Ilgarijiri, Cape Town, South Africa
2009 Ilgarijiri, AIATSIS, Canberra ACT
2009 Ilgarijiri, Curtin University, Perth WA
2009 Ilgarijiri, GUC, Geraldton WA
2009 Ilgarijiri, GRAG, Geraldton WA
2009 OPR Good Heart, QVI Perth WA
2009 NAIDOC 2009, ACDC Gallery, Geraldton
2009 Ilgarijiri, GRAG, Geraldton
Commissions
2013 Tackling Tabacco, License, Geradlton, WA, Australia